Yes you are right we are already into the Fifth Night/10th Heaven big time and I
haven't finished my last three reports - no panic here. Look I am an air sign and have a tendency to procrastinate, but the major quality here is that I am a "fixed"
air sign and always revisit. After all we still have 8 more days(Aug. 26th) before Mercury, that not so subtle trickster stations for direct motion, so let me get on with it. In other words I will just pick one example for each day starting with Aug. 15th one day before the Sun-Venus-Mercury conjunction(s) - most notable the Supeerior
Venus Conjunction. Please note for the last day of the 9th Heaven/5th Day of the 9th Wave, I will write a preview-intro. for the 5th Night and 10th Heaven ruled by Tezcatlipoca is the Smoking Mirror. In that future report, I will describe how it resonates with previous 10th heavens like that of the National Underworld
(434 to 829 CE) which includes a wild period 434-454 CE when the Huns went West into Europe. Attila the Hun, was the ruler of the Huns from 434 until his death in 453.
Are we entering a mini-period of marauders?
For those new to my blog, I have been journaling about the dramatic and many times shocking changes synched with this entire 18 day period starting on July 31st and ending on August 17th. This phase known as the Mayan 5th day/Ninth Heaven of the 9th wave is ruled by Quetzalcoatl, "feathered serpent".
Here we go knowing that Venus-Sun-Mercury in that order will oppose Neptune from Aug. 21st to Sept. 8th for Merc-Neptune. Neptune is associated withe spiritual, mystic and martyr so news this week of:
Anna Hazare: anti-corruption activist's arrest sparks protests across India
"Anna Hazare, a 74-year-old activist and one of India's most respected campaigners, was detained by police on Tuesday morning
...thousands of people have taken to the streets after police detained India's most prominent anti-corruption campaigner, hours before he was due to begin an indefinite hunger strike to demand tough new laws against graft.
"More than 1,300 people had been arrested in Delhi by mid-afternoon on Tuesday,"
Which means he was arrested early AM on Aug. 15th
here on the Pacific Coast
The arrest of Anna Hazare is an indication of the Sun now in Leo (leaders) in opposition to Neptune in Aquarius (ideals and trampling of democracy)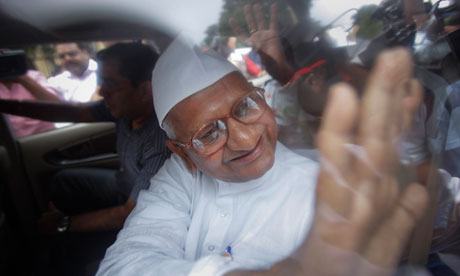 Updated to August 16th. as the inspiration of Hazare/Ghandi and yes even Quetzalcoatl
at the end of this 9th Heaven.
"For the second day, India has seen protests across the country in support of a jailed anti-corruption campaigner."
Expect more about Hazare during the 5th Night...
"Anna Hazar"
Hazare, a Gandhian by belief, outlook and practice, has become the face of India's fight against corruption. During his fast over the Lokpal Bill, Hazare, a quintessential traditional Indian by looks and mannerism, managed to inspire and mobilize the support of even the ultra-modern Indians - Indians for whom the word "social" only means having a profile on social networking sites.
His Chart set for June 15, 2011 in Bombay Province
He has Sun-Chiron together in Gemini (activist) with a leadership-communication wound. Neptune and Moon in Pisces square his martyr like personality- his tactic of using hunger strikes reflects his Pluto in late Cancer opposing Pallas in Aquarius @ 1 degree and Jupiter @ 25 Capricorn (political motivations - activism)
Since Hazare's natal Mars is in Scorpio in Quincunx to his eccentric leadership combo of Sun-Chiron. With Mars in this placement his persistent, patient and dynamic qualities also can spark public anger toward the TPTB - Singh's government which is on the defensive relating to current transit of Mars now transiting in Cancer a protective sign which will meet and empower his natal Pluto-Astraea and Hygea conjunction to make huge changes like Ghandi did.