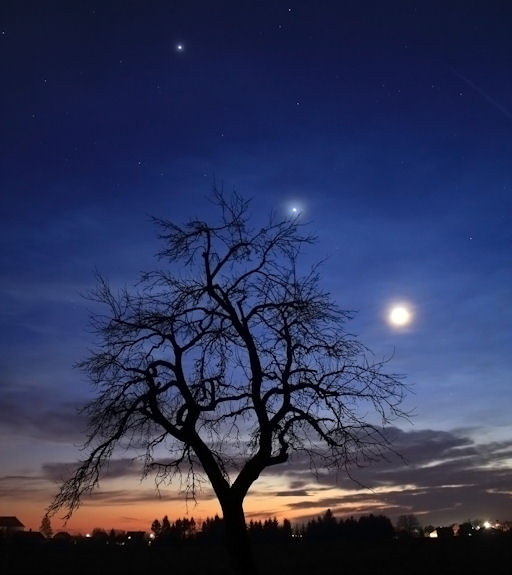 From upper left to lower right, the lights are Jupiter, Venus, and the Moon--all three bright enough to beam through wispy clouds.
I wasn't planning on talking about such a downer topic but I guess I will have to wait for another cosmic communique to go into depth about the
upcoming positive alignment of Moon-Venus-Jupiter onto March 13th.
. All in all best to start watching tomorrow evening when the Moon and Venus
are conjunct @ 20 degrees Aries - Sabian Symbol of the fighter with his/her fists raised:
"A pugilist entering the ring. "
Yeah every silver lining has a cloud especially when Mars and Saturn are both retrograde. Not to mention that we have seen multiple accidents occurring in and around Wednesday's exact Mars (now retro. in Virgo ) dangerous opposition to Mercury (confusing in Pisces)exact @ 3:25 AM 2-23-2012 but things did not stop there. Using reception and dispositors (the planet which is lord of the sign where another planet is located or "posited" using traditional astrology.) With Mars prominent in the sign Virgo - the servant both civil and military is ruled by Mercury now in his fall in the sigh of the two fishes. without looking far we see Mars relating to Aries where Uranus is square the lord of destruction, Pluto. There has been accident after another.
Today- Friday Feb. 24th:
Twelve killed in protests across Afghanistan
The religious wars over the Koran burning (Mercury in Pisces) square Mars in Virgo (books) where fomented on the religious oriented Pisces New Moon on 2-21-2012. a href ="http://www.theaustralian.com.au/news/world/bagram/story-e6frg6so-1226277629148">Bagram base besieged after US troops burn Korans with rubbish
On Tuesday 0 2-22-2012 Military Collision:
When the two U.S. military helicopters collided @ 8:00 PM PST over a training range, Virgo was rising and Mars was close by in the 12th
Ruler of the chart Mercury in confusing Pisces was near the Moon and the 7th angle adding to unsure conditions .
Since Mars (military-action) is retrograde and in "Mercury-ruled" Virgo we all need to be cautious when these hard mutable aspects occur.
Seven U.S. marines killed in Arizona helicopter collision
WASHINGTON (Reuters) - Two U.S. military helicopters collided over a training range in Arizona on Wednesday killing seven Marines, the Marines said on Thursday.
Also on 2-22-2012 -
Two cars crash behind reporter in Florida. Anchorwoman claims they were shocked by gas prices.
(blame Mercury in Pisces)
With Mercury (Pisces-disease)close to an exact oppositon to Mars (Virgo-letters)
Poison Pen Letters are take to a whole new dimension.
This not only sounds like the 2001 anthrax attacks
and with Pisces so strong we have to shout hoax or false flag.
Another one on Tues.
Threatening Letters Claiming to Have "Pathogens" Sent to Senators, Media
Epic Train wreck in Argentina:
Moon-Mercury in confusing Pisces
is heading toward an exact opposition with Mars in Virgo (Feb. 23rd)
Mars being the ruler of Aries ties in the mutable Pisces/Virgo to the accident prone cardinal aspects.
Dozens dead, hundreds injured in Argentina as train crashes into platform

But since next two days with be high energy with the Moon in the sign of the independent and risk taker, teh Ram. will touching Uranus-Ceres and Venus in Aries will involve more crazy accidents, survival, bravery
along with women who become super-heroes. especially as the Moon translates the territory they made in squares to Pluto.

Also with Mars in Virgo (the Virgin) along with Venus in dare-devil Aries, we see the return of the Super Woman

Danica survived, unhurt on Thursday, Feb. 23, 2012
after a the nearly 200 miles an hour.
With natal Aries Sun-Moon - Danica Sue Patrick (born March 25, 1982) whose own Mars in Libra opposing Sun-Moon TSQ the Nodes in Cardinal Capricorn (discipline) and Cancer (protection)
like Danica Patrick who was unscathed and racing again after wreck in Daytona 500 qualifier
Danica acknowledged this as "the hardest wreck of her career," a last-lap crash in which she got spun out and slammed nose first into a Daytona International Speedway wall going nearly 200 miles an hour. Looking at the chart below which has an approximate time of the crash @ 3:40 PM PST
and Danica natal (time unknown in the center). Not only was transiting Uranus in reckless Aries conjunct her Sun-Moon but the Mercury in the spiritual even miracle sign of Pisces was conjunct her natal Mercury along with that detailed Mars opposition where she threw her hands off the wheel to avoid injury. Also transiting Saturn is applying to her natal Pluto in Libra adding the super hero element in this amazing recovery.

Into March 2011
Looking ahead to Feb. 25th with with Sun-Jupiter are in favorable aspect:
Along with the danger comes luck, monetary gain and success as the Sun will sextile Jupiter on Saturday the 25th. Not to mention the brightest of all a Venus-Jupiter conjunction in Taurus (exact March 13th. ) we expect March to be a huge month for duplicity as we head toward a Grand Mutable Square. This shifting and unstable energy formation includes Mars (Virgo)
interlaces with a Grand Earth Trine - March 14th in time for the ides of March.
In fact two days before, Mercury stations retrograde on March 12th @ 12:49 AM PST
for an even more bizarre ride in the Media since Mercury is the sign of verbal outbursts in impulsive Aries (ingress March 3rd.)
Chart Below set for Pacific Time 3:00 AM when Pluto @ 9 degrees Capricorn is closes in a Trine to both Mars in Virgo and Jupiter in Taurus. The earth is ascending a lot faster than us humans
and we should expect some dramatic seismic shifts and volcanic outburts.

Then into the Spring Equinox on March 19th @ 10:15 PM PST with the Sun into Aries setting up some announcements involving aggressive and violent situations (hopefully not an incursion into Iran but Syria for sure). Those annoucements coincide with the Sun meeting Mercury on Wed. March 21st
right before the chaotic yet progressive New Moon in Aries on March 22nd as the Moon meets Mercury-Sun then Uranus for explosive times.